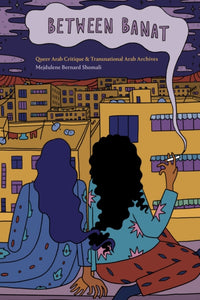 Between Banat: Queer Arab Critique and Transnational Arab Archives by Mejdulene Bernard Shomali
£2199

£21.99
In Between Banat Mejdulene Bernard Shomali examines homoeroticism and nonnormative sexualities between Arab women in transnational Arab literature, art, and film.
Moving from The Thousand and One Nights and the Golden Era of Egyptian cinema to contemporary novels, autobiographical writing, and prints and graphic novels that imagine queer Arab futures, Shomali uses what she calls queer Arab critique to locate queer desire amid heteronormative imperatives. Showing how systems of heteropatriarchy and Arab nationalisms foreclose queer Arab women's futures, she draws on the transliterated term "banat"-the Arabic word for girls-to refer to women, femmes, and nonbinary people who disrupt stereotypical and Orientalist representations of the "Arab woman." By attending to Arab women's narration of desire and identity, queer Arab critique substantiates queer Arab histories while challenging Orientalist and Arab national paradigms that erase queer subjects.

In this way, Shomali frames queerness and Arabness as relational and transnational subject formations and contends that prioritizing transnational collectivity over politics of authenticity, respectability, and inclusion can help lead toward queer freedom.
Paperback / 224 pages
---