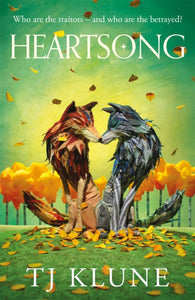 Heartsong by TJ Klune (Pre-Order)
£1670

£16.70

Save £2.29
Scheduled publication date - 1st February 2024
This incredible tale of family, revenge and redemption continues - from a No.1 Sunday Times bestselling author.
All Robbie Fontaine ever wanted was a place to belong. After the death of his mother, he bounces around from pack to pack, forming temporary bonds to keep from turning feral.

It's enough - until he receives a summons from the wolf stronghold in Caswell, Maine. Life as the trusted second to Michelle Hughes - the Alpha of all - and the cherished friend of a gentle old witch teaches Robbie what it means to be pack, to have a home. But when a mission from Michelle sends Robbie into the field, he finds himself questioning where he belongs and everything he's been told.

Whispers of traitorous wolves and wild magic abound - but who are the traitors and who the betrayed?
More than anything, Robbie hungers for answers, because one of those alleged traitors is Kelly Bennett - the wolf who may be his mate. The truth has a way of coming out. And when it does, everything will shatter.

Heartsong is the third book in the Green Creek series by bestselling author TJ Klune. Continue the journey with Brothersong.
Hardback / 464 pages
---