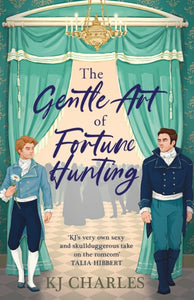 The Gentle Art of Fortune Hunting by KJ Charles (Pre-Order)
£999

£9.99
Scheduled publication date - 25th January 2024
Robin Loxleigh and his sister Marianne are the hit of the Season, so attractive and delightful that nobody looks behind their pretty faces. Until Robin sets his sights on Sir John Hartlebury's heiress niece. The notoriously graceless baronet isn't impressed by good looks or fooled by false charm.

He's sure Robin is a liar, a fortune hunter, and a heartless, greedy fraud - and he'll protect his niece, whatever it takes. Then, just when Hart thinks he has Robin at his mercy, things take a sharp left turn. And as the grumpy baronet and the glib fortune hunter start to understand each other, they also find themselves starting to care - more than either of them thought possible.

But Robin's cheated and lied and let people down for money. Can a professional rogue earn an honest happy ever after?
Paperback / 320 pages
---