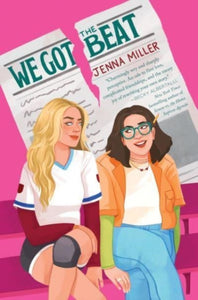 We Got the Beat by Jenna Miller (Pre-Order)
£1499

£14.99
Scheduled publication date - 25th April 2024
For fans of Becky Albertalli and Kelly Quindlen, We Got the Beat is the perfect queer friends-to-enemies-to-lovers tale. With romance, fat representation, and a meaningful exploration on how past hurts can affect our future, Jenna Miller's novel is sure to deliver all the feels.
Jordan Elliott is a fat, nerdy lesbian, and the first junior to be named editor in chief of the school newspaper.

Okay, that last part hasn't happened yet, but it will. It's positive thinking that has gotten Jordan this far. Ever since Mackenzie West, her friend-turned-enemy, humiliated her at the start of freshman year, Jordan has thrown herself into journalism and kept her eyes trained on the future.

So it's a total blow when Jordan discovers that she not only didn't get the editor in chief spot, but she's been assigned the volleyball beat instead. And who is the star and newly crowned captain of the volleyball team? Mackenzie West. But words are Jordan's weapon, and she has some ideas about how to exact a long-awaited revenge on her nemesis.

Then things get murky when forced time together has Mack and Jordan falling back into their friendship, and into something more. And when Mack confesses the real reason she turned on Jordan freshman year, it has Jordan questioning everything-past, present, and future. If Jordan lets her guard down and Mack in, will she get everything she wants, or will she be humiliated all over again?
Hardback / 352 pages
---