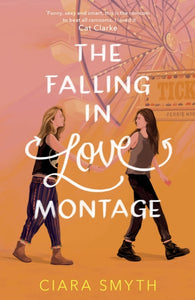 The Falling in Love Montage by Ciara Smyth
£899

£8.99
Seventeen-year-old Saoirse has finished with exams and is facing a long hot summer before uni. She plans to party, get drunk, watch horror movies and forget all her troubles by kissing girls. Ever since the breakupocalypse with her ex Hannah, she's been alone and angry, dealing with the hole left in her family by her sick mother's absence.

Worse, Dad drops a bombshell: he's remarrying at the end of the summer. Enter the scene: Ruby, who might just be the prettiest girl Saoirse's ever seen. A romcom fan and a believer in true love, Ruby challenges cynical Saoirse to try a summer romance with the serious parts left out, just like in the movies.

But what happens when the falling in love montage ends?
Paperback / 384 pages
---