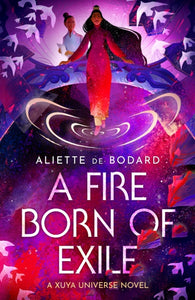 A Fire Born of Exile: A Xuya Universe Novel by Aliette de Bodard
£2200

£22.00
The Scattered Pearls Belt is a string of habitats under tight military rule . . .

where the powerful have become all too comfortable in their positions, and their corruption. But change is coming, with the arrival of Quynh: the mysterious and enigmatic Alchemist of Streams and Hills. To Minh, daughter of the ruling prefect of the Belt, Quynh represents a chance for escape.

To Hoa, a destitute engineer, Quynh has a mysterious link to her own past . . .

and holds a deeper, more sensual appeal. But Quynh has her own secret history, and a plan for the ruling class of the Belt. A plan that will tear open old wounds, shake the heavens, and may well consume her.

A beautiful exploration of the power of love, of revenge, and of the wounds of the past, this fast-paced, heartwarming space opera is set against a backdrop of corruption, power, and political scheming in the far reaches of the award-winning Xuya universe.
'De Bodard's worldbuilding dazzles ... a touching sci-fi romance that will delight fans and new readers alike' Publisher's Weekly starred review
Hardback / 432 pages
---