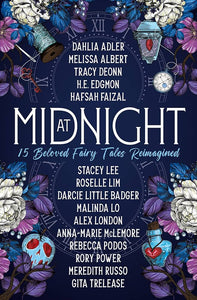 At Midnight: 15 Beloved Fairy Tales Reimagined
£999

£9.99
A dazzling collection of retold and original fairy tales from fifteen acclaimed and bestselling YA writers, including Tracy Deonn and Melissa Albert. A dazzling collection of fifteen original and retold fairy tales from acclaimed and bestselling writers.
Fairy tales have been spun for thousands of years and remain among our most treasured stories. Weaving fresh takes and unexpected reimaginings, At Midnight brings together a diverse group of celebrated writers to breathe new life into our beloved traditions.
Dahlia Adler, "Rumplestiltskin"
Tracy Deonn, "The Nightingale"
H.E. Edgmon, "Snow White"
Hafsah Faizal, "Little Red Riding Hood"
Stacey Lee, "The Little Matchstick Girl"
Roselle Lim, "Hansel and Gretel"
Darcie Little Badger, "Puss in Boots"
Malinda Lo, "Frau Trude"
Alex London, "Cinderella"
Anna-Marie McLemore, "The Nutcracker"
Rebecca Podos, "The Robber Bridegroom"
Rory Power, "Sleeping Beauty"
Meredith Russo, "The Little Mermaid"
Gita Trelease, "Fitcher's Bird"
and an all-new fairy tale by Melissa Albert
Paperback / 496 pages
---