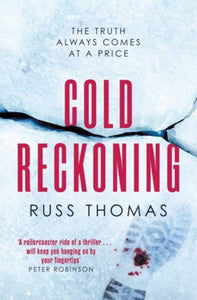 Cold Reckoning by Russ Thomas
£899

£8.99
THE DARKNESS FROM HIS PAST WILL FINALLY COME TO LIGHT
For sixteen years, gay detective, DS Adam Tyler has been searching for answers to his father, Richard's, death. Convinced it wasn't suicide, he has been investigating the case in secret. When a body is found in a frozen lake, linked to a cold case from 2002, it doesn't seem to have anything to do with the death of his father - except Tyler knows Richard was investigating the same case shortly before he died.

And Tyler doesn't believe in coincidences. As he throws himself into finding out what really happened that day, Tyler uncovers a string of botched investigations, mysterious disappearances and, ultimately, deep-seated police corruption. There are dangerous people who don't want Tyler asking questions - and the truth always comes at a price.

This time, it could cost him everything.
From the bestselling author of FIREWATCHING and NIGHTHAWKING. Praise for COLD RECKONING
'Compelling and totally immersive. It's a brilliant read for anyone with a love of tense intelligent thrillers, with pitch-perfect dialogue' KATE RHODES, author of DEVIL'S TABLE
Paperback / 464 pages
---