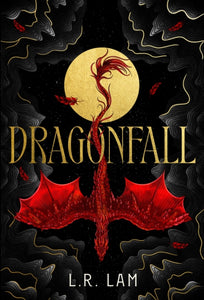 Dragonfall by L.R. Lam
£1899

£18.99
'Tight tense, smoldering, and wonderfully queer' Mike BrooksThe last male dragon. A desperate thief. A bond that will save the world .

. . or shatter it.

The first in an epic fantasy trilogy from Sunday Times bestselling author L.R. Lam.
Long ago, humans betrayed dragons, stealing their magic and banishing them to a dying world.

Centuries later, their descendants worship dragons as gods. But the 'gods' remember, and they do not forgive. Since they were orphaned, Arcady has scraped a living thieving on the streets of Vatra, dreaming of life among the nobility - and revenge.

When the chance arises to steal a powerful artefact from the bones of the Plaguebringer, the most hated person in Lumet history, they jump at it, for its magic holds the key to their dreams. But the spell has unintended consequences, and drags Everen - the last male dragon, who was once foretold to save his kind - into the human world. Trapped, and disguised as a human, Everen soon realises that the key to his destiny, and to regaining his true power, lies in Arcady.

All he needs to do is convince one little thief to bond with him completely - body, mind, and soul - and then kill them . . .

Yet the closer the two become, the greater the risk both their worlds will shatter.
'Dragons have never been so sexy' Kate Dylan'A page-turner that keeps you on the edge of your seat' Linden A. Lewis
'Fresh and exciting' Jen Williams
'A soaring good time' Tara Sim
Hardback / 448 pages
---