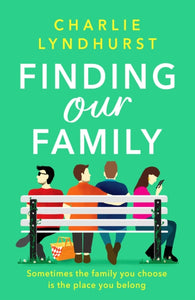 Finding Our Family by Charlie Lyndhurst
£999

£9.99
Sometimes the family you choose is the place you belong
When Marc and Jim move to the small village of Cloverley Green, they are excited about their new start. Happily married, they make up a cosy little family with Vanessa, Marc's spirited 18-year-old daughter. But even now, it isn't always easy being gay in a small community, and Marc and Jim wonder if they'll ever really be welcome...

As if this isn't hard enough, their family is knocked off balance when Jim's 23-year-old son, Alfie, has to move in. Thrown together, Vanessa and Alfie find they don't get on. At all.

They can barely stand to be in the same room, let alone forge a lifelong sibling bond. As their feuding builds, cracks show in the household and Jim and Marc must face the toughest challenges of their marriage. They all know family bonds can be the strongest of all, but can they find a way to make their new blended family work?
And can they ever find acceptance in their new community?
An uplifting read all about found family, friendship and community that will warm your heart. Perfect for fans of Matt Cain, Mike Gayle and Clare Pooley.
Paperback / 384 pages
---