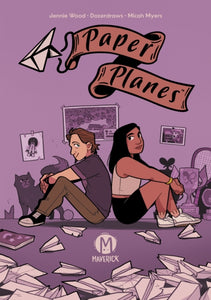 Paper Planes by Jennie Wood
£1499

£14.99
After a life altering incident, Dylan and Leighton are sent to a summer camp for troubled youth. Can Dylan and Leighton save their friendship and protect their future while trying to survive camp?
Former best friends Dylan Render and Leighton Worthington attempt to successfully navigate their way through a summer camp for troubled youth. They both need a good evaluation at the camp. Otherwise, they'll be sent away, unable to attend high school with their friends. While participating in camp activities and chores, Dylan and Leighton rexamine the events that led up to the incident that sent them to camp, the incident that threatens their futures and their friendship with each other.

"Creators Wood and Dozerdraws are, like Dylan, both nonbinary, adding empathic, multilayered nuance to their exceptional collaboration."-- " Booklist, STARRED REVIEW"

Paperback / 216 pages
---