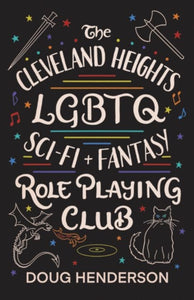 The Cleveland Heights LGBTQ Sci-Fi and Fantasy Role Playing Club by Doug Henderson
£1399

£13.99
On Thursday nights, the players assemble in the back of Readmore Comix and Games. Celeste is the dungeon master; Valerie, who works at the store, was roped in by default; Mooneyham, the banker, likes to argue; and Ben, sensitive, unemployed, and living at home, is still recovering from an unrequited love. In the real world they go about their days falling in love, coming out at work, and dealing with their family lives all with varying degrees of success.

But in the world of their fantasy game, they are heroes and wizards fighting to stop an evil cult from waking a sleeping god. But then a sexy new guy, Albert, joins the club, Ben's character is killed, and Mooneyham's boyfriend is accosted on the street. The connections and parallels between the real world and the fantasy one become stronger and more important than ever as Ben struggles to bring his character back to life and win Albert's affection, and the group unites to organize a protest at a neighborhood bar.

All the while the slighted and competing vampire role playing club, working secretly in the shadows, begins to make its move.
"It turns out that you don't have to be a gay gamer nerd from Ohio to love Doug Henderson's novel The Cleveland Heights LGBTQ Sci-Fi and Fantasy Role Playing Club. You just need to be someone who likes to laugh, or likes to watch people awkwardly attempt love and friendship, or likes to read a sweet, funny story about that time the geek got the boy. Henderson is a quirky, terrific, entertaining storyteller."--Lori Ostlund, After the Parade
Paperback / 252 pages
---