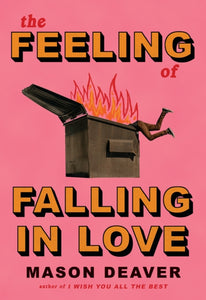 The Feeling of Falling in Love by Mason Deaver
£1199

£11.99
From the bestselling author of I Wish You All the Best, comes a new kind of love story, about the bad decisions we sometimes make... and the people who help get us back on the right path.
Just days before spring break, Neil Kearney is set to fly across the country with his childhood friend (and current friend-with-benefits) Josh, to attend his brother's wedding-until Josh tells Neil that he's in love with him and Neil doesn't return the sentiment.
With Josh still attending the wedding, Neil needs to find a new date to bring along. And, almost against his will, roommate Wyatt is drafted.
At first, Wyatt (correctly) thinks Neil is acting like a jerk.

But when they get to LA, Wyatt sees a little more of where it's coming from. Slowly, Neil and Wyatt begin to understand one another... and maybe, just maybe, fall in love for the first time...
Perfect for fans of Red, White, and Royal Blue by Casey McQuiston and What If It's Us by Adam Silvera and Becky Albertalli.
Paperback / 352 pages
---