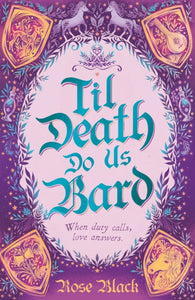 Til Death Do Us Bard by Rose Black
£2000

£20.00
'An absolute bear-hug of a book!' Sangu Mandanna, bestselling author of The Very Secret Society of Irregular Witches
Marriage isn't always sunshine and unicorns... sometimes it's monsters and necromancy. It's been almost a year since Logan 'The Bear' Theaker hung up his axe and settled down with his sunshiny bard husband, Pie.

But when Pie disappears, Logan is forced back into a world he thought he'd left behind. Logan quickly discovers that Pie has been blackmailed into stealing a powerful artifact capable of creating an undead army. With the help of an old adversary and a ghost from his past, Logan sets out to rescue his husband.

But the further the quest takes him, the more secrets Logan uncovers. He'll need all his strength to rescue his husband - but can he save their marriage? Til Death Do Us Bard is a charming queer fantasy, perfect for fans of Legends and Lattes and Nettle and Bone.
Hardback / 352 pages
---