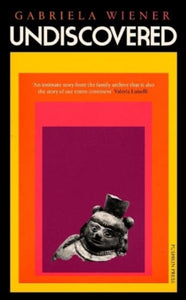 Undiscovered by Gabriela Wiener
£1499

£14.99
A provocative autobiographical novel that reckons with the legacy of colonialism through one woman's family ties to both colonised and coloniser

Alone in an ethnographic museum in Paris, Gabriela Wiener is confronted with her unusual inheritance. She is visiting an exhibition of pre-Columbian artefacts, the spoils of European colonial plunder, many of them from her home country of Peru. Peering through the glass, she sees sculptures of Indigenous faces that resemble her own - but the man responsible for pillaging them was her own great-great-grandfather, Austrian colonial explorer Charles Wiener.

In the wake of her father's death, Gabriela begins delving into all she has inherited from her paternal line. From the brutal trail of racism and theft Charles was responsible for, to revelations of her father's infidelity, she traces a legacy of abandonment, jealousy and colonial violence, and questions its impact on her own struggles with desire, love and race in a polyamorous relationship. Blending personal, historical and fictional modes, Undiscovered tells of a search for identity beyond the old stories of patriarchs and plunder.

Incisive and fiercely irreverent, it builds to a powerful call for decolonisation.
Hardback / 192 pages
---