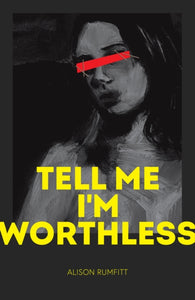 Tell Me I'm Worthless by Alison Rumfitt
£999

£9.99
Three years ago, Alice spent one night in an abandoned house with her friends Ila and Hannah. Since then, things have not been going well. Alice is living a haunted existence, selling videos of herself cleaning for money, drinking herself to sleep.

She hasn't spoken to Ila since they went into the House. She hasn't seen Hannah either. Memories of that night torment her mind and her flesh, but when Ila asks her to return to the House, past the KEEP OUT sign, over the sick earth where teenagers dare each other to venture, she knows she must go.

Together Alice and Ila must face the horrifying occurrences that happened there, must pull themselves apart from the inside out, put their differences aside, and try to rescue Hannah, who the House has chosen to make its own.
Cutting, disruptive, and darkly funny, Tell Me I'm Worthless is a vital work of trans fiction that confronts both supernatural and real-world horrors as it examines the devastating effects of trauma and the way fascism makes us destroy ourselves and each other.
Paperback / 264 pages
---