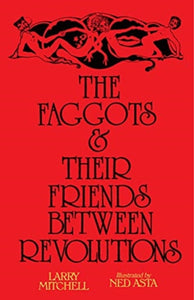 The Faggots and Their Friends Between Revolutions by Larry Mitchell
£1299

£12.99
The Faggots and Their Friends Between Revolutions is a beloved queer utopian text written by Larry Mitchell with lush illustrations by Ned Asta, published by Calamus Press in 1977.
Part-fable, part-manifesto, the book takes place in Ramrod, an empire in decline, and introduces us to the communities of the faggots, the women, the queens, the queer men, and the women who love women who are surviving the ways and world of men. Cherished by many over the four decades since its publication, The Faggots and Their Friends Between Revolutions offers a trenchant critique of capitalism, assimilation, and patriarchy that is deeply relevant today.

This new edition will feature essays from performance artist Morgan Bassichis, who adapted the book to music with TM Davy in 2017 for a performance at the New Museum, and activist filmmaker Tourmaline.
Paperback / 128 pages
---