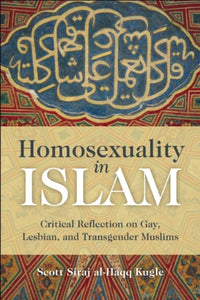 Homosexuality in Islam: Critical Reflection on Gay, Lesbian, and Transgender Muslims by Scott Siraj Al-Haqq Kugle
£2500

£25.00
This is the Islam you've never been allowed to see. Daringly reported from its frontlines and forbidden to most of humanity for centuries.
The Hajj pilgrimage is a journey every Muslim is commanded by God to go on at least once in a lifetime if they are able and, like millions, Parvez Sharma believes his spiritual salvation lies at Islam's ground zero, Mecca. But unlike the journeys of his fellow Muslims, the consequences of his own could be deadly.
In A Sinner in Mecca, author, filmmaker, and 2018 Guggenheim Fellow Parvez chronicles his pilgrimage as a very openly gay Muslim to Saudi Arabia, where Islam's heart beats . . . and where being true to himself is punishable by death. Risking his life, Parvez embarks on a Jihad of the self-filming his experience along the way. Already under fire for his documentary A Jihad for Love, which looks at the coexistence of Islam and homosexuality, he would undoubtedly face savage punishment if exposed-from being thrown off a cliff to public beheading.
Parvez's odyssey is at once audacious, global, and remarkable. He meets everyone from extremists to explorers of the spiritual kind and the world they open up is frightening . . . yet breathtaking. In Mecca, Parvez comes out to a pilgrim, who then asks him why he would want to be part of something that wants no part of him. This book is his answer to this question and many more. Parvez provides an unflinching look at our troubling unfolding history, including Hizbullah, ISIS, Trump, the race-wars, an embattled Europe, and more. He offers real solutions, borne of his efforts to get his hands dirty to find them. This is a lived history-and its author is no armchair theorist.
A Sinner in Mecca is simultaneously one man's personal odyssey as well as a groundbreaking, provocative revelation of a clandestine world and its fastest growing and most contested religion.
Paperback / 330 pages
---