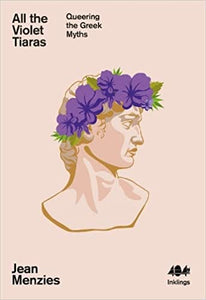 All the Violet Tiaras: Queering the Greek Myths by Jean Menzies (Pre-Order)
£750

£7.50
Scheduled publication date - 25th January 2024
For a period in time that gave us Sappho, and the love affair of Achilles and Patroclus, the Ancient Greek relationship with queer folk is a lot more complicated than at first glance. Yet, as ancient historian and author Jean Menzies highlights in this book, ancient Greek myths are being told anew by LGBTQ+ writers and readers to explore modern day queer joy and queer struggles. They are queering the Greek myths.

LGBTQ+ writers and readers have reclaimed an ancient and timeless form of storytelling featuring reimaginings of recognisable characters to give voice to a community that has always existed but has not always been able to speak out!
All the Violet Tiaras is both an act of rebellion and an act that honours the legacy of these remarkable stories. Together our community has carved out a safe space in the transformed versions of these myths and we are here to stay.
Paperback / 112 pages
---