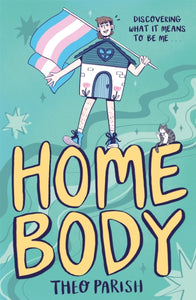 Homebody by Theo Parish (Pre-Order)
£1499

£14.99
Scheduled publication date - 25th April 2024
A heartwarmingly lyrical and hilarious non-fiction comic memoir by creator Theo Parish, perfect for fans of Heartstopper and What's the T?
'The journey is mine to take as I please, one step at a time . . .'
Homebody is an inclusive story about acceptance, love and discovering what it means to be yourself based on Theo's own exploration of gender identity. Interweaving between past and present and punctuated by hilariously powerful comic panels and poetically humorous prose, Theo's story is the perfect exploration of what it means to feel at home in one's identity. Follow Theo's journey through school, first relationships and teenagehood as they discover that home is where the heart is.
'We are all deserving of comfort and safety . . . a place to call home.'
Paperback / 240 pages
---