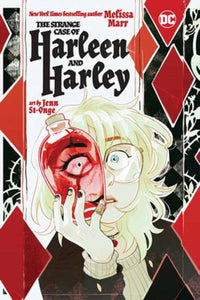 The Strange Case of Harleen and Harley by Melissa Marr, Jenn St-Onge (Pre-Order)
£1499

£14.99
Scheduled publication date - 6th August 2024
'Good and evil are so close as to be chained together in the soul.' - The Strange Case of Dr. Jekyll and Mr. Hyde by Robert Louis Stevenson.

Harleen Quinzel is many things, a gymnast, anxious, broke... but the last thing anyone would call her is evil. Harley Quinn on the other hand... When Harleen signs up to participate in a clinical research trial with her girlfriend, Pamela, the most she can hope for is extra cash in her wallet and a chance to get her anxiety under control.

But what she gets instead are increasingly larger gaps in her memory and stolen mementos from some guy named Jack she's never met. Soon, Harleen discovers she's sharing her life with Harley-a take-no-prisoners, who-cares-about attendance, maybe-we-oughtta-save-the-bunnies kind of girl. She is the opposite of Harleen in many ways.

She is anarchy in a cute dress. And although she's throwing Harleen's life completely off track, maybe she ain't so bad either... New York Times bestselling author of Wicked Lovely, Melissa Marr, teams up with celebrated artist Jenn St-Onge to tell the story of a girl who will learn good and evil are not black and white (and red)... as long as she doesn't get caught.
Paperback / 192 pages
---