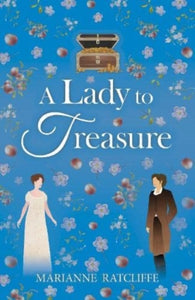 A Lady To Treasure by Marianne Ratcliffe
£999

£9.99
Louisa Silverton is the daughter of a wealthy American businessman, brought up to believe a healthy profit is the only route to happiness. With the family company over-leveraged and in need of a capital injection, she travels to England to find a rich husband. The Honourable Miss Sarah Davenport has no time for romance.

The family estate of Kenilborough is mired in debt and only she can save it. Unconventional and outspoken, Sarah is dismayed that somebody as intelligent and attractive as Louisa is willing to sacrifice herself for financial gain. As Louisa pursues her campaign, Sarah realises her objections to the project run deeper than mere principles.

At the same time, Louisa finds herself captivated by Sarah's independent spirit. Yet to indulge their unexpected passion would surely mean the ruin of both their families. Bound by duty, will they ever be free to follow their hearts?
Paperback / 
---