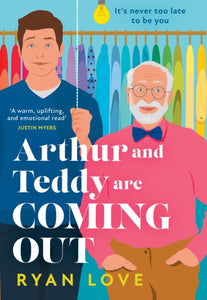 Arthur and Teddy Are Coming Out by Ryan Love
£1499

£14.99
The feel-good read of 2023. Perfect for fans of Mike Gayle, Beth O'Leary and Alice Oseman's Heartstopper. 
'Gentle, honest and beautifully authentic' Julietta Henderson
'Feel-good, heartwarming fiction' Holly Miller
'I'm totally #TeamArthurandTeddy' Heidi Swain
'Uplifting and emotional' Justin Myers
When 79-year-old Arthur Edwards gathers his family together to share some important news, no one is prepared for the bombshell he drops: he's gay, and after a lifetime in the closet, he's finally ready to come out.

Arthur's 21-year-old grandson, Teddy, has a secret of his own: he's also gay, and developing serious feelings for his colleague Ben. But Teddy doesn't feel ready to come out yet - especially when Arthur's announcement causes shockwaves in the family. Arthur and Teddy have always been close, and now they must navigate first loves, heartbreak, and finding their place in their community.

But can they - and their family - learn to accept who they truly are?
Hardback / 400 pages
---