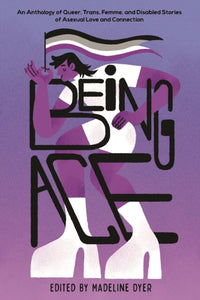 Being Ace: An Anthology of Queer, Trans, Femme, and Disabled Stories of Asexual Love and Connection by Madeline Dyer
£1599

£15.99
A disabled vigilante trying to save her kidnapped girlfriend, a little mermaid who loves her sisters more than suitors, a slayer whose virgin blood keeps attracting monsters and more, the works in Being Ace are anything but conventional.
Whether in psychiatric hospitals, space ships, haunted cemeteries, or under the sea, no two aces are the same in 15 unique works that highlight asexual romance, aromantic love, and the many other sub-identities of the asexual spectrum umbrella.
From a mixture of established and emerging YA writers, contributors include Rosiee Thor, Akemi Dawn Bowman, Linsey Miller, and Moniza Hossain.

"Themes of grief, community expectations, resilience, self-esteem, and queer joy are woven throughout this anthology [...] readers hungry for intersectional ace (and frequently also aro) representation will be pleased to see a range of queer identities, racial backgrounds, and disabilities." -Kirkus Reviews

"Dyer expertly delivers on the collection's premise of creating a variety of colorful, aspirational places to which queer and aroace readers might flock and find community, belonging, and representation." -BCCB
" Being Ace is an essential YA anthology. It's a perfect palette that paints the richness of asexuality, in all its many shades and hues. This is the first anthology I've read that really gets what it means to be authentically, honestly ace. Fantastic!" Saundra Mitchell, bestselling editor of All Out, Out Now and Out There
Hardback / 352 pages
---