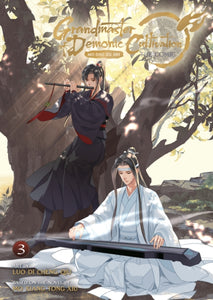 Grandmaster of Demonic Cultivation - The Comic: Mo Dao Zu Shi Vol. 3 by Mo Xiang Tong Xiu
£1899

£18.99
Also known as MDZS, the comic/manhua version of the New York Times bestselling novels from China that also inspired an animated adaptation and the live-action series The Untamed!
Wei Wuxian's cover is blown!

Wei Wuxian's studies come to an abrupt end when he picks a fight with a young master of the Jin Clan. A lifetime later, he wakes from his dream of days gone by to find he's still unraveling the mystery of the ghost arm.

Following their latest lead, Wei Wuxian and Lan Wangji arrive in Qinghe, where they must contend with strange tombs interring sabers, terrifying man-eating walls, and bizarre sewn-up corpses. But that's not even the worst of it. Wei Wuxian's true identity has been revealed! How will he settle his past scores?
Don't miss this full-color xianxia fantasy manhua/comic from China about two powerful men who are drawn to each other through war and across lifetimes!

Paperback / 216 pages
---