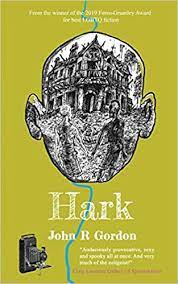 Hark by John R. Gordon
£1099

£10.99
The night the statue of a Confederate colonel is torn down in the center of a dying, opioid-scarred and racially divided Southern town is the night two wild teenagers meet and start to fall in love. White working class Cleve is broke and drifting into criminality; black, bourgeois Roe is alienated and rebellious. They say opposites attract, and who could be more opposite than Cleve and Roe?
When Cleve finds himself, at age 17, home alone for the first time in his life, he summons the courage to invite Roe to stay over. The young men's relationship looks set to move to another level when they are interrupted by Hark, a mysterious black vagrant who seems to possess supernatural powers, and takes them on a strange and troubling journey into the past.
Hark is a touching, vividly contemporary coming of age story; a compelling, fast-paced and ultimately hopeful tale of gay interracial love; and shows us how necessary it is to confront the evils of our shared history, however painful it may be to do so.
"Hark mixes several genres with grace, aplomb and undeniable queerness. It's audaciously provocative, sexy and spooky all at once. And very much of the zeitgeist!" -- Craig Laurance Gidney (A Spectral Hue)
Paperback / 294 pages
---