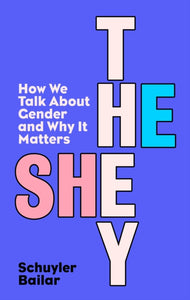 He/She/They: How We Talk About Gender and Why It Matters by Schuyler Bailar
£1699

£16.99
How can we change the conversation around gender, become better allies, challenge misconceptions, and make the world a better place?
Gender is a human experience, not just a trans experience. Every single one of us has a relationship with gender that we must begin to reckon with. He/She/They is Schuyler Bailar's empowering, essential, and urgent guide to understanding gender identity.

As a transgender man, inclusion advocate, and LGBTQ+ educator, Schuyler inspires hope and much-needed positive change - he encourages personal reflection and exploration so that every human can be the most compassionate, most authentic version of themselves - and most importantly, become better trans allies in the process. Schuyler equips readers with essential trans and gender literacy through empowering and informative stories from his own experiences, as well as those of other trans and non-binary individuals around the world. This urgent, hopeful guide will shift the conversation around gender and allow all readers to better understand what gender is and how to talk about it at this critical moment.

He/She/They is a vital, supportive, and life-affirming resource for anyone questioning their gender identity or trying to understand it better.

Paperback / 300 pages
---