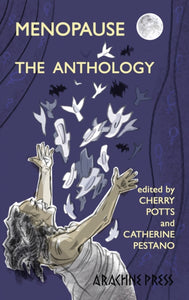 Menopause: The Anthology edited by Cherry Potts, Catherine Pestano
£999

£9.99
The subject of Menopause is just beginning to break the barrier of taboo, and become a mainstream discussion point, but that discussion has until now been very serious, medical, and, we would argue, heterosexual and white.
This anthology of poems and short fiction aims to address that, with wild and wonderful writing from humour and anger, relief and distress, by women who have experienced menopause, whether naturally or as a result of surgery; with a healthy dose of views from the global majority and the lesbian, bisexual and trans communities.
With contributions from Adele Evershed, Alison Habens, Alyson Hallett, Amanda Addison, Anne Caldwell, Anne Eccleshall, Anne Macaulay, Cath Holland, Cheryl Powell, Chloe Balcomb, Claire Booker, Claire Lynn, Clare Starling, Ellesar Elhaggagi, Elizabeth A Richter, Em Gray, Erica Borgstrom, Genevieve Carver, Ginger Strivelli, Helen Campbell, Jane Ayres, Jane Burn, Jane McLaughlin, Jessica Manack, Joanne Harris, JP Seabright, Julie-Ann Rowell, Karen F Pierce, Kavita A Jindal, Kim Whysall-Hammond, Lucy Lasasso, Marina Sanchez, Martha Patterson, Mary Mulholland, Rachel Playforth, Ruth Higgins, Sian Northey, Susan Bennett, Susan Cartwright-Smith, Tessa Lang, Tina Bethea Ray, Victoria Bailey, and Victoria Ekpo.

Paperback / 100 pages
---