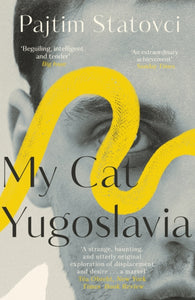 My Cat Yugoslavia by Pajtim Statovci
£999

£9.99
In 1980s Yugoslavia, a young girl named Emine is married off to a man she hardly knows. But soon her country is torn apart by war, and she is forced to flee with her family.
Decades later Emine's son, Bekim, has grown up a social outcast in a country suspicious of foreigners. Aside from casual hook-ups, his only companion is a pet boa constrictor - until one night in a gay bar, Bekim meets a talking cat. It is this witty, charming, manipulative creature that starts him on a journey back to Kosovo to confront his demons and make sense of the remarkable, cruel history of his family.

And soon he learns that love can be found in the most unexpected places.
'A strange, haunting, and utterly original exploration of displacement and desire' -- Tea Obreht, author of The Tiger's Wife
'Fearless, delicate, beautiful, sad, haunting and wonderful. A brilliant novel that mesmerizes with both its humanity and its utter uniqueness' -- Jeff Van der Meer
Paperback / 272 pages
---