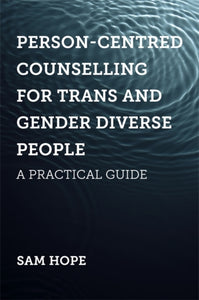 Person-Centred Counselling for Trans and Gender Diverse People by Sam Hope
£2499

£24.99
Trans clients are frequently doubted, misunderstood, infantilised and judged by professionals, and this book presents an approach that ensures psychological wellbeing and trust is built between counsellor and client. This person-centred, affirmative approach is based around unlearning assumptions about gender and destabilising professionals' ideas of 'knowing better' than, and judging the client, so that they can forge a relationship and connection that is on an equal footing.
The book explores a range of topics such as the overlap of gender diversity and autism, sex and sexuality, intersectionality, unconscious bias and reflective practice.

Essential reading for professionals that want to support trans people's mental health and social wellbeing.

Paperback / 248 pages
---