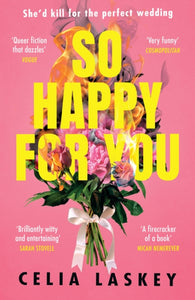 So Happy for You by Celia Laskey
£899

£8.99
Bridesmaids meets Black Mirror in the most twisted and entertaining thriller of 2022.
Robin and Ellie have been best friends since childhood.

They've been through everything together, from Robin coming out to the death of Ellie's dad. But when Ellie asks Robin to be her maid of honour, Robin is reluctant. It's not that Robin isn't happy for Ellie, she just hates everything about weddings and marriage - plus the guy Ellie's engaged to.

There's also the matter of the crazy (not to mention dangerous) wedding rituals that couples are resorting to in the hope of securing a lifetime of happiness. Despite her misgivings, Robin finally says yes. But as the wedding day approaches, she gets the feeling that everyone in the bridal party is out to get her.

And it seems Ellie is willing to do anything for the perfect day. After all, marriage is about sacrifice...
'A firecracker of a book' Micah Nemerever, author of These Violent Delights
'Ridiculously addictive to read. Wildly creative and wickedly funny' Laurie Elizabeth Flynn, author of The Girls Are All So Nice Here
Paperback / 304 pages
---