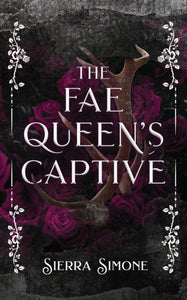 The Fae Queen's Captive by Sierra Simone
£899

£8.99
Save some of your screams for the queen, there's a good girl...
Janneth Carter has given up on magic these days. She's done being curious, insatiable, dreamy; she just wants to finish her graduate degree and spend the rest of her life as a sensible archeologist. So the last thing she expects when she goes to her dig site on Halloween night is three mysterious strangers standing outside an ancient Scottish grave.
Okay, well the actual last thing she expects is for those strangers to kidnap her and drag her into fairyland.
Once in the vivid, carnal world of Faerie, Janneth is at the mercy of the coldly lovely and incredibly cruel Stag Queen. Desperate to get home to her own world, she offers the Queen a bargain: she'll be a willing captive, the queen's pet, so long as the Queen promises to keep her safe until Janneth leaves Faerie.
But fae promises are complicated things, and nothing in Faerie, even pleasure-even love-comes without a price...
Paperback / 178 pages
---