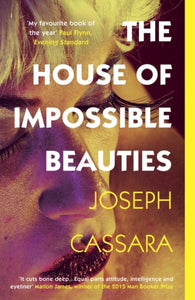 The House of Impossible Beauties by Joseph Cassara
£899

£8.99
A gritty and gorgeous debut inspired by the real House of Xtravaganza made famous by the seminal documentary Paris Is Burning.
New York City, 1980
Nowhere is the city's glamour and energy better reflected than in the burgeoning Harlem dance scene. 
Angel. Just seventeen years old and burnt by her traumatic past, she wants to create a family for those without.

Hector. When Angel falls in love with him, the two decide to set up the House of Xtravaganza, the first ever all-Latino house on the dance circuit.
The Xtravaganzas. They are joined by Venus, Juanito and Daniel, all with their own devastating stories to tell, each determined to survive.
Told in a voice that brims with wit, rage, tenderness, and fierce yearning, The House of Impossible Beauties is a gritty and gorgeous debut - a tragic story of love, family, and the dynamism of the human spirit.
Paperback / 416 pages
---