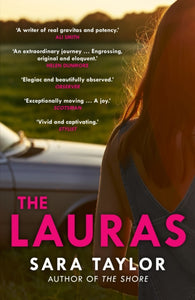 The Lauras by Sara Taylor
£899

£8.99
"I didn't realise my mother was a person until I was thirteen years old and she pulled me out of bed, put me in the back of her car, and we left home and my dad with no explanations. I thought that Ma was all that she was and all that she had ever wanted to be. I was wrong..."
As Ma and Alex make their way from Virginia to California, each new state prompts stories and secrets of a life before Alex. Together they put to rest unsettled scores, heal old wounds, and search out lost friends.

But Alex can't forget the life they've left behind.
"A writer of real gravitas and potency." Ali Smith
"An extraordinary journey ... Engrossing, original and eloquent." Helen Dunmore
Paperback / 304 pages
---