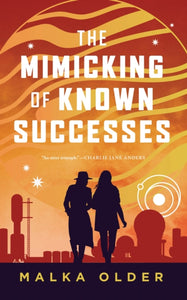 The Mimicking of Known Successes by Malka Older
£1699

£16.99
The Mimicking of Known Successes presents a cozy Holmesian murder mystery and sapphic romance, set on Jupiter, by Malka Older, author of the critically-acclaimed Centenal Cycle.

"Every once in a while, a book comes along that is both a comfort read and a rousing, fist-pumping adventure, and The Mimicking of Known Successes absolutely is both of those things. An utter triumph."--Charlie Jane Anders

On a remote, gas-wreathed outpost of a human colony on Jupiter, a man goes missing. The enigmatic Investigator Mossa follows his trail to Valdegeld, home to the colony's erudite university--and Mossa's former girlfriend, a scholar of Earth's pre-collapse ecosystems.
Pleiti has dedicated her research and her career to aiding the larger effort towards a possible return to Earth. When Mossa unexpectedly arrives and requests Pleiti's assistance in her latest investigation, the two of them embark on a twisting path in which the future of life on Earth is at stake--and, perhaps, their futures, together.

Hardback / 176 pages
---