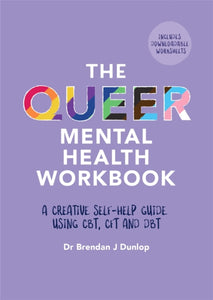 The Queer Mental Health Workbook: A Creative Self-Help Guide Using CBT, CFT and DBT
£1699

£16.99
To be queer is to feel different - a felt sense that you don't fit in. This can be alienating and difficult and lead to mental health challenges and lower wellbeing throughout life. Using a range of therapeutic approaches, this comprehensive, down-to-earth self-help workbook is designed to be your personal mental health resource.

It is filled with techniques and activities you can read, tailor and 'pick and mix' to improve your wellbeing as a queer person, at your pace. The workbook is split into two sections - the first part focusses on laying the groundwork by exploring identity, psychological wellbeing, and mental health experiences in order to situate mental health challenges in context and improve overall mental health. The second half hones in on ideas and techniques applicable to specific challenges and situations.

It explores difficult topics such as anxiety, low self-esteem, eating disorders, self-harm, suicidal ideation, shame, trauma, substance abuse, sleep, and low mood, all whilst maintaining a focus on your needs as a queer individual. Empowering and reassuring, and written by an experienced queer mental health practitioner, this one-of-a-kind workbook will help you to flourish as a queer person and begin to overcome any challenge.

by Dr Brendan J Dunlop
Paperback / 288 pages
---