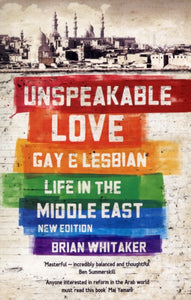 Unspeakable Love: Gay and Lesbian Life in the Middle East by Brian Whitaker
£1099

£10.99
Homosexuality is a taboo subject in the Arab world. While clerics denounce it as a heinous sin, newspapers write cryptically of 'shameful acts' and 'deviant behaviour'. Amid the calls for reform in the Middle East, homosexuality is one issue that almost everyone in the region would prefer to ignore.

In this absorbing account, Guardian journalist Brian Whitaker calls attention to the voices of men and women who are struggling with gay identities in societies where they are marginalised and persecuted by the authorities. He paints a disturbing picture of people who live secretive, fearful lives and who are often jailed, beaten, and ostracised by their families, or sent to be 'cured' by psychiatrists. Deeply informed and engagingly written, Unspeakable Love reveals that - while deeply repressive prejudices and stereotypes still govern much thinking about homosexuality - there are pockets of change and tolerance.

This updated edition includes new material covering developments since the book's first publication.
Paperback / 300 pages
---