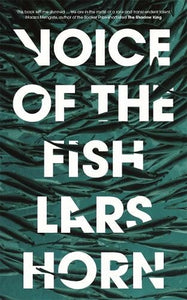 Voice of the Fish by Lars Horn
£1299

£12.99
Lars Horn's Voice of the Fish, winner of the Graywolf Press Nonfiction Prize, is a kaleidoscopic, hallucinatory memoir that explores the trans experience through meditations upon aquatic life and mythology, set against the backdrop of travels in Russia and a debilitating injury that left Horn temporarily unable to speak, read and write. In their adept hands, these poignant, allusive shards take shape as a unified whole: short vignettes about fish, reliquaries and antiquities serve as interludes between - and subtle reflections upon - longer memories of their life, knitting together a sinuous, wave-like form that flows across the book.

Horn swims through a range of subjects; across marine history, theology, questions of the body and gender, sexuality, transmasculinity and illness. From their childhood modelling for their mother's art installations - immersed in a bath with dead squid; encased in a full-body plaster cast - to their travels before they were out as trans, these beguiling fragments are linked by a desire to interrogate the physical, and to identify the current beneath. Horn re-examines presumptions about the body, privileging instead ways of seeing and being that resist binaries, ways that falter, fracture, mutate.

Sensuous and immersive, Voice of the Fish is unique: a masterful and moving achievement.
'This book left me stunned. Breathtaking in its scope and generosity . . . We are in the midst of a transcendent talent.' Maaza Mengiste, author of the Booker Prize-shortlisted The Shadow King
'Rapturous . . . [Horn] is the mystic's David Attenborough.' New York Times Book Review
Paperback / 240 pages
---