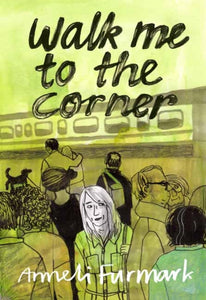 Walk Me to the Corner by Anneli Furmark
£2300

£23.00
Stability withers where passion blossoms in this cool-toned meditation on mid-life relationships. A loving home and husband; two grown sons; a lakeside cabin with a picnic table where their initials are carved; and the chance encounter with a woman at a party that destabilizes it all. Elise is in her mid-fifties and is satisfied with life.

But the moment she sees Dagmar, she s entranced. What begins as eye contact transitions to harmless texting, and quickly swells into the type of lust and yearning Elise did not know her life was lacking. Both happily married, there s trepidation, but they can t resist.

The two arrange to meet, changing the course of Elise s stable and consistent life forever. Though Elise s husband attempts to support her exploration, he also begins an affair with a much younger woman a postgraduate student in her thirties. The cliche of it all is too much for Elise to bear.

As their marriage unravels, her love for Dagmar grows stronger. But with Dagmar content to stay in her marriage, Elise is stranded, adrift, completely alone for the first time in her adult life, and searching for someone to blame the other woman. In the blur of a breakdown, she s left facing the reality that, after all, she started it.

In lush watercolour washes and pencil crayons, Anneli Furmark s Walk Me to the Corner is a gorgeous portrait of desire and heartbreak, and the painful gamble the heart sometimes choses in spite of the mind.
Translated from Swedish by Hanna Stromberg
Paperback / 228 pages
---