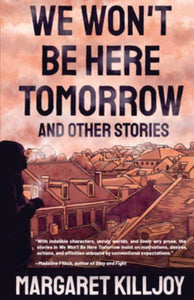 We Won't Be Here Tomorrow: And Other Stories by Margaret Killjoy
£1500

£15.00
Spaceships, man-eating mermaids, swords, demons, ghouls, thieves, hitchhikers, and life in the margins.
Margaret Killjoy's stories have appeared for years in science fiction and fantasy magazines both major and indie. Collected here are the best previously published work along with brand new material. Ranging in theme and tone, these imaginative tales bring the reader on a wild and moving ride.
They'll encounter a hacker who programs drones to troll CEOs into quitting; a group of LARPers who decide to live as orcs in the burned forests of Oregon; queer, teen love in a death cult; the terraforming of a climate-changed Earth; polyamorous love on an anarchist tea farm during the apocalypse; and much more.
Killjoy writes fearless, mind-expanding fiction.
Paperback / 248 pages
---