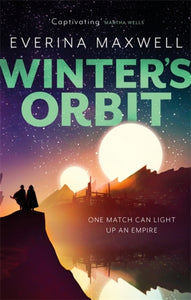 Winter's Orbit by Everina Maxwell
£899

£8.99
Ancillary Justice meets Red, White & Royal Blue in Everina Maxwell's exciting debut.
The Iskat Empire rules its vassal planets through a system of treaties - so when Prince Taam, key figure in a political alliance, is killed, a replacement must be found.

His widower, Jainan, is rushed into an arranged marriage with the disreputable aristocrat Kiem, in a bid to keep rising hostilities between two worlds under control. But Prince Taam's death may not have been an accident, and when Jainan himself is a suspect, he and Kiem must navigate the perils of the Iskat court, solve a murder, and prevent an interplanetary war . . .
'Has everything you could ask: impossible choices, divided loyalties, dry wit . . . charming slow-burn romance, and an adventure in space politics' A. K. Larkwood
'Dazzling . . . Its characters stayed with me long after I raced through the last chapters' Aliette de Boddard
'A chilling account of a dark past wrapped in the warm blanket of a promising future . . . A pleasure to read' Ann Leckie
'A stunning new space opera debut' K. B. Wagers
Paperback / 448 pages
---